Allen school board approves purchase of new band gear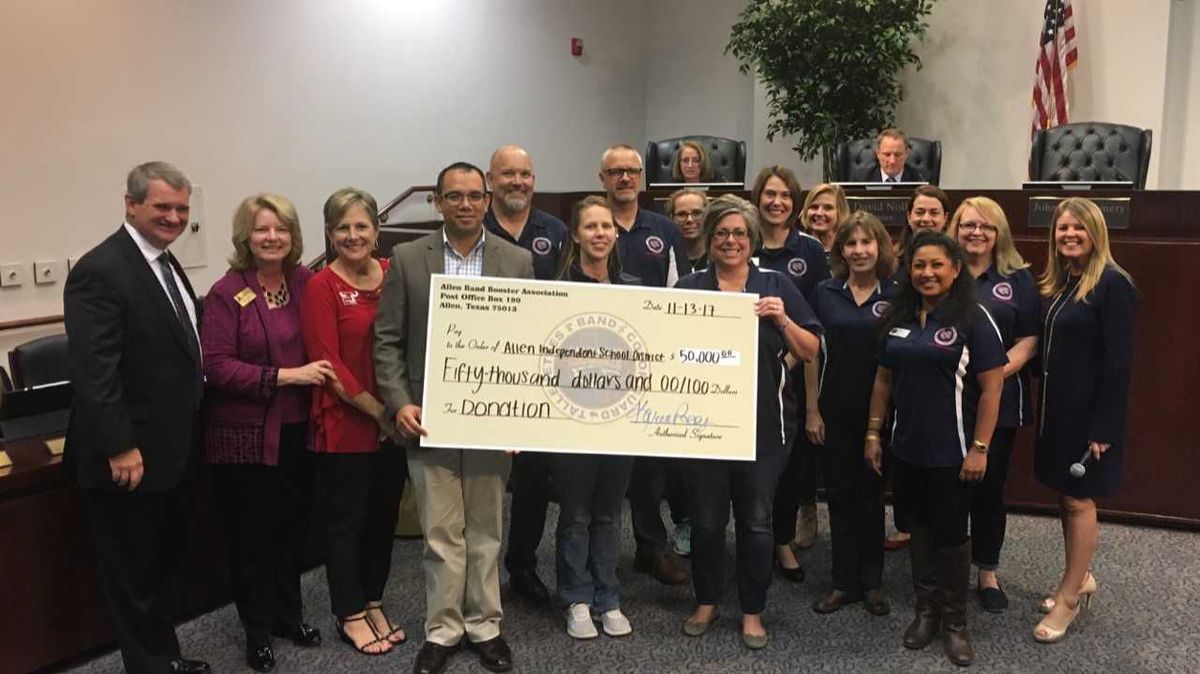 Article originally posted here on AllenAmerican by
Garrett Cook
Featured Photo by Tim Carroll.
New swag will soon be coming the way of the Allen High School Marching Band, one of the biggest bands in all the land. The Allen ISD Board of Trustees at their Monday night meeting approved the purchase of new uniforms for the marching band and clothing racks at a cost of $392,979 and the purchase of two trailers to convert into band trailers for $259,738.
"It's definitely an exciting night for our band program," said Jennifer Wilhelm, assistant superintendent of learner services.

Wilhelm gave a presentation to the board of trustees on Monday detailing the need for new uniforms and clothing racks to go with them. Daniel Pitcock, assistant superintendent of operations, also came before the board to request approval for purchase of trailers to haul band equipment in.
The band's current uniforms were purchased in Fall 2010 and were first worn the following fall. The new uniforms will make their public debut in the 2018-19 school year.
According to Wilhelm, the high school band directors worked in tandem with Fruhauf Uniforms Inc. on the design of the new uniforms. The school district's last uniforms were also provided by the Wichita-based company.
"Fruhauf has a reputation for quality products and excellent customer service," Wilhelm said.
The clothing racks, Wilhelm said, will be purchased to keep the new uniforms in shape and provide mobile accessibility when traveling to away football games and band competitions. The racks are made by Winger Music Company.
The school received a two-percent discount for agreeing to put half the money down up front and paying the other half within 30 days of shipment.
Wilhelm did not show off the new design of the uniforms, but said that there will be a big reveal "at some point in the near future."


To haul all that new equipment around, the district also approved a purchase price of $259,738 for two 53-foot box trailers which will be converted into band trailers. Band trailers will include features like ensemble storage, front and rear vertical lift stairs, safety railing, a hydraulic ramp and custom interior shelving, paint and vinyl graphics.
Pitcock said the cost of the trailers was $132,422 while the conversion costs totaled $127,316.
The district had set aside a maximum amount of $600,000 for fiscal year 2017-18 for new uniforms. The total costs for uniforms, racks, trailers and conversions came to $652,535. Band boosters contributed $50,000 to help offset costs. Pitcock said the remaining $2,717 would be transferred from the district's extracurricular budget.
The district expects conversion and delivery to be complete prior to the 2018-19 school year, he added.